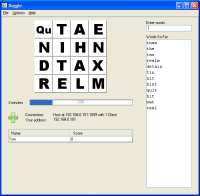 Boggle is a version of the popular dice game Boggle in a muliplayer format. It can be played over a network or the internet.
Boggle requires Java to run.
Boggle is free software and is licensed under the GPL.
Features
Network or internet play for an unlimited number of players.
All marking done near-instantly by the computer – quicker games, no more disputes.
Full scrabble words type dictionary.
Results so far totalled and displayed.
Computer opponents.